We make PDF forms for your business!
Patient Forms
Invoices
Contracts
Applications
Worksheets
Surveys
Awards
Change of Information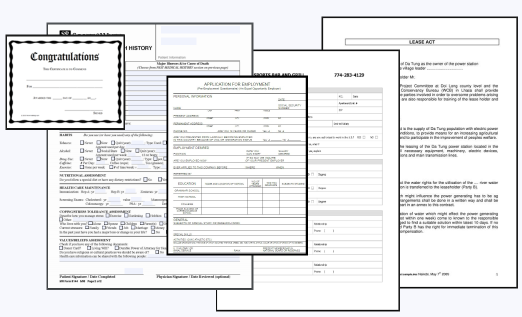 We do ALL the work!
There are plenty of downloadable programs to turn your plain paper forms into PDF's for your website but they are tedious and time consuming. We are experienced and tech-minded so you don't have to be. We do all the work of digitizing your forms for you.
We resolve challenges like using your logo, implementing fillable text fields, check-boxes, radio buttons, digital signatures, etc. Our forms will work in Adobe Acrobat and any other PDF program your customers might use.
Rates
$19 to add your company logo to one of our free PDF forms.
$49 for the first page of a uniquely designed form and $29 for each additional page.
You can buy online or call our team 727-561-0431
Your forms are saved and guaranteed for 30 days.
If you notice something you want changed, just call us and we will make as many adjustments needed for up to a month.
PERSONABLE, PROFESSIONAL AND AFFORDABLE SERVICE
© 2009-2016 WonderTech